PT. Duta Katup Mas is a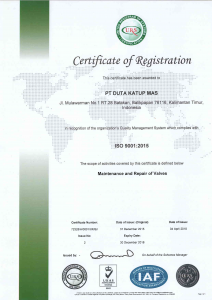 Company Based in East Kalimantan, which was established on Decem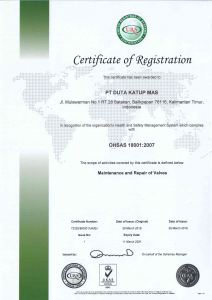 ber 20th 1999.
The Workshop and facilities are capable for the Valve repair, pump repair and instrument refurbish and installation. Our client are oil and gas industry, Power plant , Chemical and etc. We are working according to API, ASME/ANSI, ISO, JIS and other international standards.
Date Of Incorporation PT. Duta Katup Mas  December, 20th 1999, employes more than 50 personnel, including production, administration, quality control , engineering and etc. PT. Duta Katup Mas maintains a detailed account of repairs made on each item. A comprehensive history for each component can be supplied. A repair work order is maintained on file for each job, thus allowing traceability by receiving report, sales order and serial numbers. 
Customer property records are kept on a database unique to each customer. This documentation allows specific, itemized information to be provided per a customer's request.
The following is recorder for each item receiving report number, location from which the item was received, date equipment was received, make of equipment (OEM), item description, repair work order number, location item was shipped to, date item was shipped, 
bill of lading number and repair cost of item. PT. Duta Katup Mas database can provide various reports to customers depending on customers needs. Reports can be generated on a monthly.